A tropical low pressure system in the East Sea has developed into a storm since the May 3 evening and was approaching the south central area, the national weather bureau announced.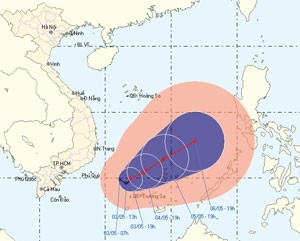 Chart shows Vietnam forecast of the move of storm Chanhom (from left to right)
The storm, the first of the year faced by Vietnam, has been named Chanhom.
At 10 pm May 3, the eye of the storm was about 390 kilometers east and southeast of the south central provinces. From the storm eye, the area of winds from level six covered about 150 km, according to the national weather bureau.
The weather agency forecast that the storm would move east-northeast over the next 24 hours, at a speed of 5 km per hour and would become stronger.
The national committee for flood and storm preparedness has warned coastal provinces from Danang to Ca Mau of the storm. Relevant agencies have been informed to take precautious measures.