Severe floods caused by downpours during the past several days have inflicted serious damage including loss of life and property in many central provinces, where some areas continue to face flashfloods and landslides.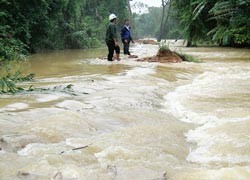 Flooding seen in Thua Thien-Hue Province
Week-long heavy rains have submerged many districts of Ha Tinh province including Huong Khe, Ky Anh, Huong Son, Loc Ha, Vu Quang and Thach Ha. The floods that peaked from October 18-20 killed three people, including one student, said the provincial Steering Committee for Flood and Storm Prevention and Control. 
Torrential rains are still raging in Ha Tinh and are forecast to continue in the days to come. Water levels at the Ke Go Lake, and Ngan Sau, Ngan Pho and La rivers may rise beyond emergency level I and flashfloods and landsides may occur, the committee said.
Even as waters in Quang Binh province's rivers began to recede, heavy rains continued to pour on the province's northern districts of Minh Hoa and Tuyen Hoa, making the water level in the Gianh River to rise to emergency level II. One woman was killed in the flooding in Hoa Son commune. Some schools in Tuyen Hoa district had to be closed since waterway traffic was blocked.
Rivers in Thua Thien-Hue province have risen to alarm level II and heavy rains have continued to pour, flooding many residential areas in Quang Dien district. As of yesterday evening, one more person was killed, taking the death toll to six, said the provincial Committee for Flood and Storm Prevention and Control.
The local authorities have asked the central government to provide Thua Thien-Hue with VND30.85 billion (US$1.85 million) which will be spent on rice seeds, decontamination, and consolidation of embankments.
In the city of Da Nang, heavy rains continue to threaten the Lien Chieu Air Petrol Depot, where two petrol and oil tanks were ruptured several days ago by an embankment collapse. The fire police and depot staff are keeping a close watch over the area to prevent fire and explosion.