According to the National Hydrology Meteorology Forecast Center, the water level on the Nine Dragon and Saigon River are forecast to rise rapidly starting October 11- 20 because of the influence of flood tide.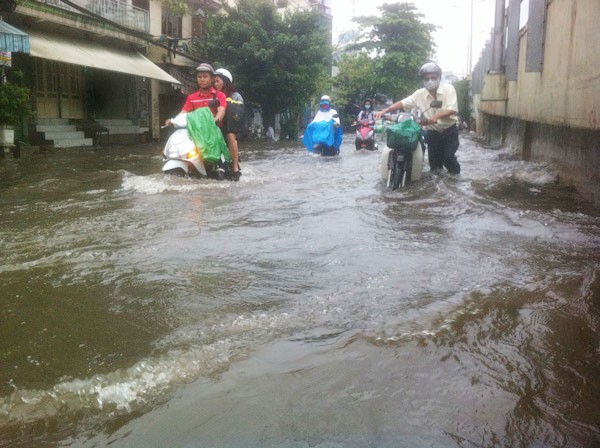 Heavy rain and flood tide cause flooding in Ho Chi Minh City.
Particularly, the highest water level in the upstream and downstream Nine Dragon and Saigon River will reach at the main alarm level 1- 3 from October 18- 20.
At Tan Chau station,  the water level on Tien River and Hau River will respectively stay at 3. 3 meters and 2. 8 meters.
The flood tide is predicted to cause flooding at the lower areas and in Ho Chi Minh City.
The weather center reported that typhoon 'Aere' was yesterday weakened into the tropical low pressure.
Its position was centered at 21. 5 degrees north latitude and 117. 3 degrees east longitude, at 360 kilometers of Hong Kong (China); and after that it continues being weakened into the low depression zone.
The southern territorial water from Binh Thuan to Ca Mau, from Ca Mau to Kien Giang province and the Gulf of Thailand has suffered medium- heavy rains and thunderstorm.