Heavy flooding has hit central provinces repeatedly of late. Water levels in rivers in the region are reported to have risen to danger levels II and III on October 29, and the Central Weather Bureau has predicted incessant rain will compound the situation in coming days.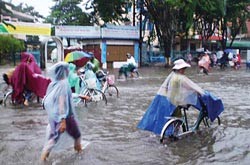 Floodwaters flood a street in Quang Ngai Province
According to the bureau's reports, on the early morning of October 28, water levels in rivers in central provinces began to go down gradually, but heavy downpours in the area between Quang Binh and Quang Ngai provinces raised them again and this is set to continue.

The bureau also predicts that water in rivers in Thua Thien Province would rise to alarming level III in the early morning of 30.

In Da Nang City, many downtown streets have been submerged under water up to 0.6 meters deep, causing severe traffic congestion for several hours in a row in yesterday evening.

In Quang Ngai Province, whirlwinds have blown off the roofs of 24 houses and schools. Nearly 30 landslides occurred in roads and streets that link different districts and communes in the province together.

In Hue City of Thua Thien Province, many streets in the districts of An Cuu, Xuan Phu, Phu Hoi and Kim Long have been flooded.

People living in badly hit areas including Quang Dien and Phu Vang Districts are now facing a shortage of fuel and potable water. Many are suffering from diarrhea and acute conjunctivitis.

In Quang Binh Province, municipal authorities are trying their best to evacuate over 2,000 households living on the banks of the Gianh River to higher ground.

In Huong Khe District of Ha Tinh Province, floodwaters have swept away 13 bridges. Landslides caused severe damages to three dams. The people of Huong Giang Commune, which is located on the banks of the Ngan Sau River, are totally isolated by floodwaters.

Le Thi Huong, a fifth grader at the Huong Giang Elementary School is reported to have been swept by the floods on October 28 at around 5:00 p.m.