Haima typhoon, the second storm to hit Vietnam this year, will weaken into a tropical depression before sweeping over the Red River Delta this Sunday, the national weather bureau has said.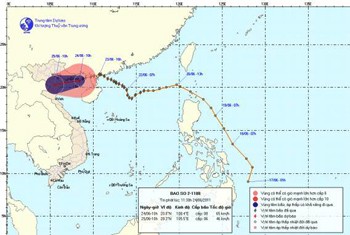 Haima typhoon weaken into a tropical depression before making landfall in the southern part of the Red River Delta on June 26
The typhoon has generated strong winds and heavy rains in islands and coastal areas from Quang Ninh Province to Hai Phong City.
By this morning, rainfall levels were 40-70mm in the northern and northern central regions. Some places in Hanoi, Hai Phong and Thanh Hoa Province saw it rise to 103-110mm.
Haima was about 120 kilometers east of the coast between Quang Ninh and Thai Binh Province at 10am Friday morning.
Within the next 24 hours, the storm will move southwestwards at 10-15km an hour and weaken into a tropical depression, to stabilize near the southern Red River delta provinces by 10am on Sunday.
Wind gales close to the depression will be from 39-49 kilometers an hour. The northern region will continue to have heavy rains in the next few days.
Meanwhile, another typhoon named Meari has intensified on waters off the Philippine waters. It is forecast to strengthen into a super-typhoon in a couple of days.
The national weather bureau says Meari is not likely to enter Vietnam's East Sea but will interact with Haima to cause more havoc around the Gulf of Tokin and the East Sea.