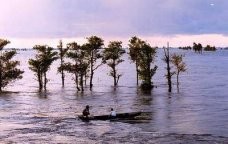 Head-stream flood occured in the southern province of An Giang in October, 2002(Photo: N.K.N)
The Mekong Delta is in the period of seasonal change but rain has constantly been falling in recent days. Until the afternoon of April 19, rain-storm accompanied by lightning has killed seven people in Dong Thap Province.
According to the vice head of the Southern Hydrometeorology Bureau, Ms. Le Thi Xuan Lan, lightning usually strikes in the transitional period (in early rainy season after heat wave), which victimizes at least 50 people per year. To avoid lightning when rain-storm comes, people should not walk in open fields, shelter under tall trees and power poles, drive motorbikes and use cell phones.
It is forecast that a severe drought may occur in June and August, followed by lightning; so, people should be cautious.
This year, head-stream flood on Tien River and Hau River may occur soon, late July. Later, flood may overflow into Dong Thap Muoi region and Long Xuyen Quadrangular and reach its highest level in September.
Flood is likely to cause more damages in 2006 than in 2005.