Due to influence of typhoon Rammasun, Ha Noi Capital and Northern provinces experienced heavy rains in the morning of July 17, reported by the National Meteorological Hydrology Forecast Center.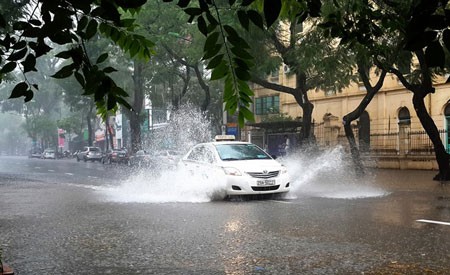 Heavy rain causes flooding several streets in Ha Noi Capital (Photo:SGGP)
Heavy rain flooded badly many main street routes in Ha Noi Capital like streets of Nguyen Phong Sac, Duong Dinh Nghe, Pham Hung, Xuan Thuy, Noi Bai – Pham Van Dong ...
Floodwater caused traffic jam and motorcycle engine failure during several hours in the areas.
By 7 am on Thursday, Rammasun was located 390 kilometers of east southeastwards of Paracel Island at 16,4 degrees north latitude and 115,8 degrees east longitude. The storm sustained wind speeds up of level 12-13 near center of the storm and gusted up to level 15-16.
Within next 24 hours, the storm will move between west northwestwards and northwestwards at 20-25 kilometers per hour, said center.
By 7 am on Friday, the storm will be centered 250 kilometers of northwards of Paracel Island at 18, 8 degree north latitude and 111, 7 degrees east longitude with the strongest wind speed above level 13.
According to forecast weather, within next 48 -72 hours, Rammasun will change its direction towards west northwest at 15-20 kilometers per hour.
Under typhoon's influence, Vietnam's territorial waters includes Paracel Island will see strong wind speed at level 9-11.
In the evening of July 18, the territorial water of the Gulf of Tonkin, where the storm will sweep through, will meet strong wind at level 8-10.
'Rammasun' storm is forecasted as a strong storm with complicated direction; therefore, local authorities and fishermen need to pay attention to give immediate instruction to deal with the storm, added Center.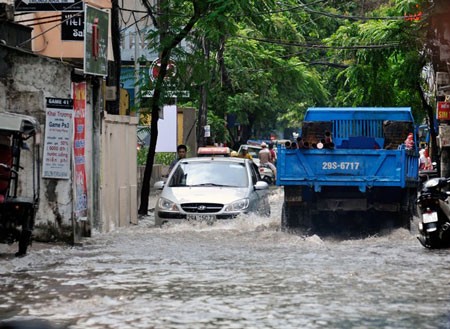 Heavy rain causes flooding several streets in Ha Noi Capital (Photo:SGGP)