Because of the passage of a cold front, east winds, the north central and central provinces experienced heavy rains and floods on the large scale on March 25- 26, reported the National Hydrology Meteorology Forecast Center yesterday.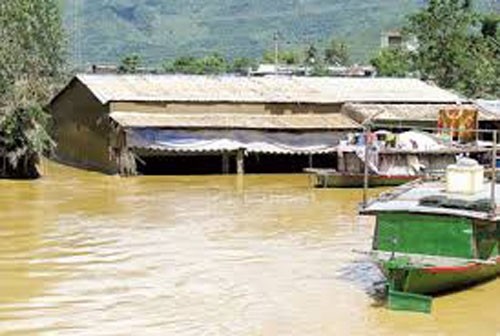 Heavy rains causes a faster rise of flood level on local rivers. (Photo:SGGP)
Particularly, the highest rainfall in the central provinces of Ha Tinh, Thua Thien- Hue, Quang Nam and Quang Ngai was measured at 103- 203 mm.
Heavy rains caused a faster rise of flood level on local rivers, alerting at over level 1. In Quang Ngai province, flood water on Tra Khuc River rose rapidly. By 4pm yesterday, the flood water level at the Tra Khuc Gauging Station was at 3, 65 meters.
Heavy rain prolonging from last afternoon until this morning has unleashed floodwaters from the upper reaches of Bo River to cause unusual flooding for lowland areas in the central province of Thua Thien-Hue.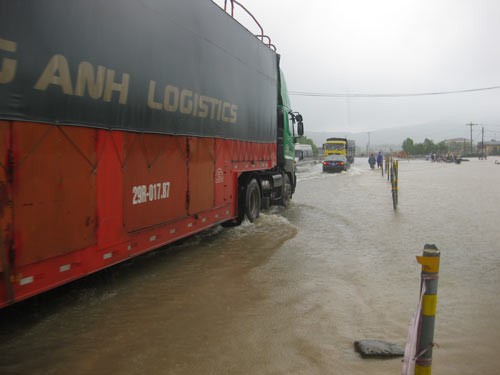 National Highway 1A is flooded obstructing vehicular traffic (Photo: SGGP)
Many residential areas have been submerged under 0.3-0.7 meters of floodwaters in Phu Loc District. The flooding has hindered vehicular traffic on the National Highway 1A in Loc Tri commune and swamped many inter-commune roads.

Primary schools in low-lying areas have informed parents to take their children home for safety.

According to the province's Steering Committee for Flood and Storm Prevention, turbulences from an overhead zone of eastern winds combined with a cold front has caused medium to heavy rainfall in the province.

Precipitation was measured at 209mm in the mountainous district of A Luoi at 1 a.m. this morning.

Water level on local rivers has highly surged, posing a threat of flashflood on small rivers and springs, flooding in lowlands and landslide in mountainous and riverside areas.
The steering committee has asked Huong Dien hydropower plant on the upper reaches of Bo River to reasonably regulate floodwater release to ensure safety for residents' lives and properties.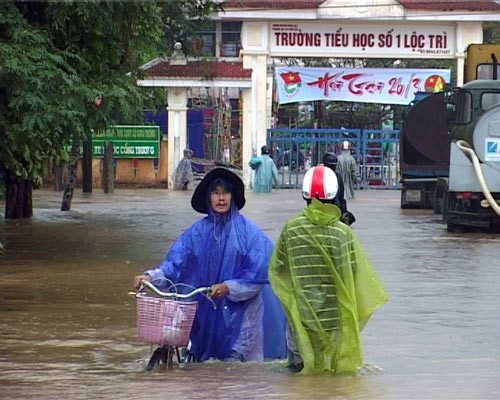 Parents pick up their children from schools in Phu Loc district, Thua Thien-Hue province (Photo: SGGP)