In the upper Mekong Delta Saturday, the Tien River in Tien Giang province measured 2.39m while the Hau River in Chau Doc Town, An Giang Province reached 2.33m.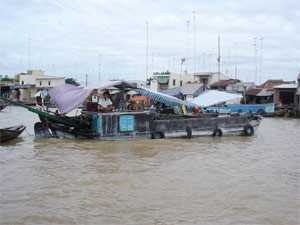 Floodwater rise in the upper Mekong delta provinces (Photo:V.H)
Waters in the Tan Chau River have reached 3.02m, exceeding the first warning level.
The Dong Thap Muoi and Long Xuyen Quadrangle are forecast to begin flooding.
Relating to fishermen on the ship KG 90621-TS collided by an unknown foregn ship because of heavy rains on Friday in the Con Dao Sea east of Con Dao Island, only two out of 17 fishermen were found.
Two fishermen were rescued and brought to Con Dao Island while 15 remain missing.
The An Giang Department of Aquiculture asked the National Committee for help in the search for the missing on Saturday.