Heavy rains are forecasted for many areas of the country during the first days of August. Meanwhile, the water levels of the Tien River and Hau River in the Mekong Delta are rising.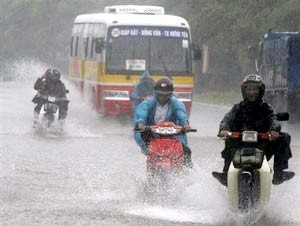 A scene often seen during a heavy rain in Ho Chi Minh City
A wave of weak cold air which is moving from southern China may cause frequent heavy rain in the north and central regions, particularly from 3 to 5 August, according to the national weather bureau.
In the Central Highlands and in the south, rain showers and squalls may take place in many areas in the afternoons and evenings.
As there was only a little rain in the past days, the water level of the Red River is ebbing and may go down to 7.5 meters by Friday.
The water level of the Tien River in the Mekong Delta is likely to peak at 2.4 m in Tan Chau Town on August 3 and Hau River is likely to peak at 1.9 m in Chau Doc Town the same day.