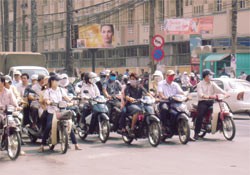 Ho Chi Minh City saw its record high temperature of 36.3oC in February, 2006 (Photo: VH)
During the past 20 years, the temperature in Ho Chi Minh City has risen dramatically. The average degree reached 28oC in 2004, up from 27.1oC in 1984, said Le Thi Xuan Lan, senior official of the Southern Regional Hydro- Meteorological Center (SRHMC).
The average temperature during the past 40 years has been continually rising, and some districts in the southern provinces of Binh Phuoc and Dong Nai were known as the hottest areas.
However, in recent years, Ho Chi Minh City has often had as high temperatures as in the said provinces, sometimes even higher.
Recently, the weather in Ho Chi Minh City turned as hot as 36.3oC, the highest ever in February, which was equal to that in Dong Xoai (Binh Phuoc's provincial capital) and higher than the ceiling point of temperature in other southern areas such as Long Khanh, Tri An, Tay Ninh, etc.

Urban heat island effect
The Green-house effects plus the carbon dioxide released from factories are responsible for the global warming. Also, ever-increasing population and recent severe deforestation have added heat to the world's climate. During the past century, the global temperature has been up 0.6oC, say scientists.
The sky in Viet Nam, especially in Ho Chi Minh City, has changed along with a surge of the local temperature.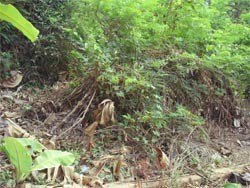 Severe deforestation contributes to the hot climate in the world. (Photo:VH)
The "urban heat island effect" is another cause of the rise in temperature. Fewer trees, narrow streets and skyrocket buildings are major factors causing the reduction of natural air circulation. The rising population and the large number of vehicles and air-conditioners, have all made it even worse.
An environmental report shows that the garbage and waste dumps in the urban area also change the city's climate.
Domino effect
Climate change could affect the ecological condition, which may lead to the outbreak of serious pandemics. Increased urban temperatures can affect public health and living conditions.
Dengue fever is an example. This disease can only attack in warm regions and tropical countries. The hotter climate helps spread the disease.
Climate changes also cause abnormal growth of plants and animals, a rise of the sea level, and changes in air flows. These changes might bring about harmful effects on water resources and agriculture.
Another alarming consequence of the current climate change is heavy rainfalls which have flooded streets in Ho Chi Minh City in recent years.

Scientists say that just a change of about 0.2oC in the global temperature could well lead to devastation. Thus, there should be public alarm at the increasing temperature in Ho Chi Minh City and solutions to the problems.