The Agriculture Outlook Forum under title of "Solutions for plant restructuring, reducing local production costs, improving efficiency of rice production and coping with climate change in Mekong Delta region" was held in Hau Giang province on February 19, attracting a large number of scientists from institutes, universities, agricultural industry of 13 provinces and cities of Mekong Delta region.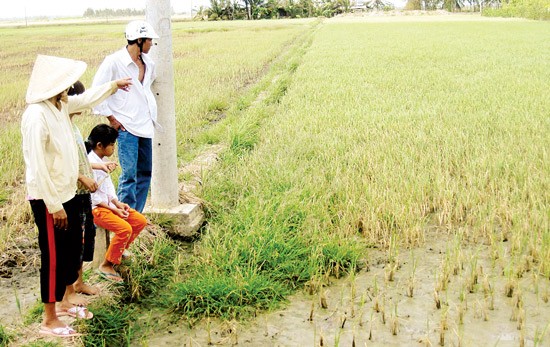 (Photo: SGGP)

At the forum, Deputy Chairman of the People's Committee of Hau Giang province Truong Canh Tuyen said: "Climate change is serious ever- increasing influence to the Mekong Delta region suffering severe damages from drought, saltwater intrusion. Therefore, one of the most important measures is converting plant restructuring to be suitable with ongoing difficult weather condition".
"The drought and saltwater intrusion have expanded in Mekong Delta region, and recorded during past 100 years", said Deputy Minister of Agriculture and Rural Development Le Quoc Doanh.

Dealing with difficulties and challenge from climate exchange and deep integration expansion of agricultural market as now, Mekong Delta region's granary has to solve efficiency of using rise seed, increase local production costs, and improve income of farmers.
 
Representative of the cultivate department suggested localities have to keep a close watch on fresh water source and saline intrusion to lay down harvest for each crops.
As schedule, Mekong Delta province is going to seed to nearly 1, 67 million hectares of this year's summer-autumn rice crops.