The northern region has been warned to brace for heavy rainfalls during July, the peak month of the rainy season.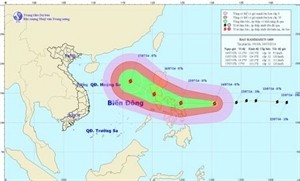 Storm's movement and position (Source: nchmf.gov.vn)
"Mountainous provinces should actively prepare for heavy rains that could cause flash floods and landslides," warned Deputy Director of the National Centre for Hydro-meteorological Forecasting Le Thanh Hai.
The centre has forecast that the amount of rainfall this July in the northern mountainous region and in the South Central Coast, Central Highlands and Southern provinces would be lower than the recorded yearly average by about 20 to 40 percent.
The eastern coast, Red River Delta and north central coast are expected to maintain their average rainfall.
The centre also predicts that the East Sea will experience nine to ten storms this year, approximately half of which will make landfall.
Vietnam Institute of Meteorology, Hydrology and Environment Director, Nguyen Van Hiep, said that in future the number of storms may decrease while the number of strong typhoons with winds up to 144km/h will rise.
Minister of Agriculture and Rural Development Cao Duc Phat has asked local authorities to inspect and maintain national dykes to prepare for the upcoming rainy season.
Floods from last year led to dozens of landslides at dykes across the northern province of Bac Ninh and Bac Giang and the central province of Thanh Hoa during the first half of this year. Authorities are concerned the landslides could make the dykes vulnerable in the upcoming rainy season.
Nine tropical cyclones that made landfall last year, the largest number in the past 50 years, also caused severe damage to the dykes.
Local authorities were asked to make plans to protect the dykes from storms and floods.
The Minister also called for an inspection of the sluices located under the dykes that act as drainage, and to seal off any broken gates.