The North central provinces have suffered serious damages from flood, cyclone and heavy rains on the large scale after typhoon 'RAI' swept through on September 12, reported the National Hydrology Meteorology Forecast Center.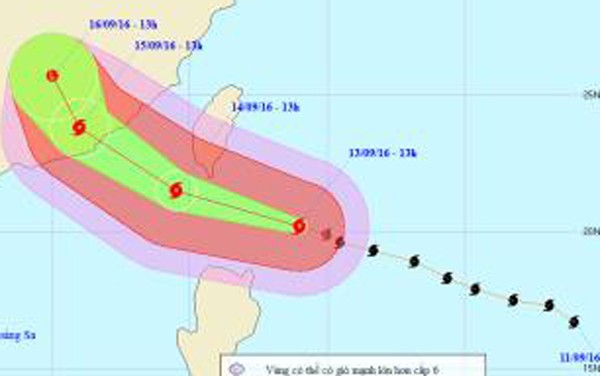 The Central Hydrology Meteorology Forecast Center reports position of the typhoon.
Because of its influence, water levels in rivers from Nghe An to Binh Dinh were still rising rapidly.
By September 14, water levels in rivers from Quang Tri to Quang Ngai and Kontum are predicted to drop below level 1 while flooding in rivers from Nghe An to Quang Binh will continue increasing sharply.
In the early morning yesterday, heavy rains and cyclone blew up 150 house's roofs and trees. Seven residents living in Trieu Phong, Do Linh, Hai Lang were injured by the bad weather.
Mr. Hoang Lien Son, chairman of the People's Committee of Cam Tuyen commune of Cam Lo district reported: "At present, local authority and functional forces are helping the affected families to repair their house's roofs and resume their normal life"
Quang Binh was not located in the center of storm but the province suffered also terrible damages from the natural disaster.
The storm brought heavy rain and powerful wind in the province on the large scale with its highest rainfall was measured at over 130 mm.
A cyclone suddenly blew up 100 house's roofs in Quang Van and Ba Don commune. At that time, the cyclone caused eight injured people and blew off 65 house's roofs.
The center yesterday reported that two paralleled storms are operating strongly in the East Sea. The first storm named Meranti which will bring strong wind of level 17.
The super storm 'Meranti' is forecast to land in Guangdong region of China in next two days.
Due to the influence of the super storm, the northeastern territorial waters of the East Sea are warned to have the wind force level of l10- 17.
Meanwhile, another storm named Malakas which has just appeared in the eastward of the Philippines will also be able to enter the East Sea.
On the same day, the National Steering Committee for Natural Disaster Prevention and Control and the National Committee for Search and Rescue sent a require to the local authorities and relevant agencies in the north central provinces extending from Quang Ninh to Khanh Hoa to prepare for effective measures dealing with super storm 'Meranti'.