The National Hydro Meteorological Forecasting Center is predicting a cold spell to hit the northern region, resulting in showers and widespread cold weather conditions this Friday.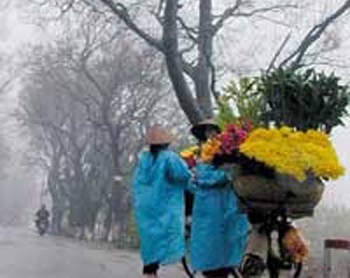 Cold spell covers Hanoi with thick fog
This cold spell will drop existing temperatures in Hanoi and the Red River Delta by 2-4 degrees Celsius. Meanwhile, the earlier cold spell continues to slam northern provinces.
Since Thursday afternoon, Hanoi and several other provinces have seen mild showers, thick fog and bitter cold weather conditions. Temperatures in the central provinces have also been affected as a result of the weather conditions up north, with temperatures dropping to 15-28 degrees Celsius.
The same afternoon, the low pressure zone operating on the southern part of the East Sea for the last few days was centered at 9-11 degrees north latitude and 114-116 degrees east longitude.
It was slowly moving west at 5-10 kilometers per hour which could cause heavy showers along the central coastal areas from Da Nang to Binh Thuan provinces.
Affected by the circulation of the low pressure zone and the northeasterly winds blowing through the Gulf of Tonkin last night, the northern part of the East Sea, including Hoang Sa (Paracel) Islands experienced strong gust winds up to 62-88 kilometers an hour.
The middle and southern parts of the East Sea were also affected by strong winds and thunderstorms. 
In Ho Chi Minh City and the southern region, the present warm weather will prevail until the weekend with highest temperatures being expected to reach 34 degrees Celsius. Mild showers may occur during afternoons and night time.