The National Hydrology Meteorology Forecast Center yesterday warned that a cold front is currently moving from the northern region to the southeastern region which caused the appearance of tropical converge sweeping through the mid central and south central region.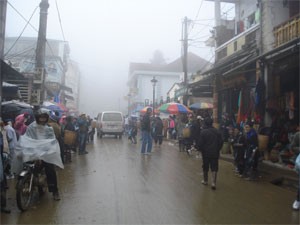 Illustrative photo:SGGP

 

In addition, the ongoing cold air in companied with the powerful operation of the southwest monsoon and low pressure zone in the southern territorial water of Paracel Island have brought medium-heavy rains on the large scale in the central provinces from Nghe An to Quang Ngai on the large scale by tonight.

Because of the influence of the four complicated weather patterns, both the Central Highlands and southern provinces will continue experiencing medium-heavy rains in the next two or three days.

The highest daytime temperature in Ho Chi Minh City will be measured at 24- 31 degrees. By tonight, a flood is forecast to sweep through local rivers from Nghe An to Quang Ngai and the Central Highlands.

Flood level has increased rapidly and alerted at level 1-2 on local rivers, even up to over level 2 on upstream rivers.

Therefore, the National Hydrology Meteorology Forecast Center asked local authorities from Nghe An to Quang Ngai and the Central Highlands need to eye flash flood, landslide and flooding in lower zones.

Meanwhile, the Gulf of Tonkin and the northern territorial water of East Sea will see strong wind of level 5- 7 and sea rough tonight.

The southwest monsoon of level 6- 8 in companied with thunderstorm and big waves of 2- 3 meters is going to shoulder over  the center and southern East Sea from Binh Thuan to Ca Mau including Spratly Island.