According to the National Hydro Meteorological Forecasting Center, the Northern and North Central Coastal Provinces will continue to reel under a severe cold spell with temperatures constantly dropping until December 29.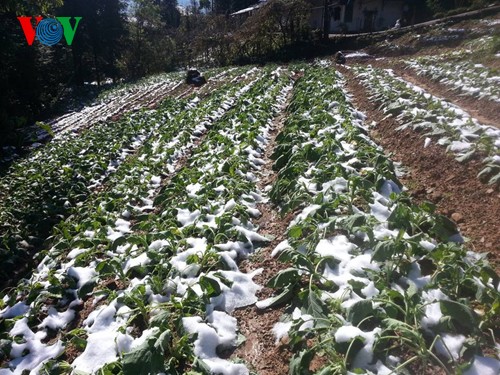 Flowers and vegetables were destroyed due to snowfall in Sapa (Photo: VOV)
Northern mountainous regions have been cautioned against ice and frost, with likelihood of a snowfall by Christmas.
Lao Cai Province informed that by December 22, although it has been a week after the snowfall in Sa Pa and Bat Xat Districts, snow has still not melted.
In Sa Pa District more than 150 hectares of flowers and vegetables were destroyed. In addition, around 3,100 square meters of net houses where orchids were being grown have now been ruined and 20,000 pots of chrysanthemum also destroyed. Seven houses were damaged due to heavy snow but no human casualties were reported.