The Central Hydrological and Meteorological Forecast Center reports hail and tornado storms sweeping the northern provinces from April 6-7.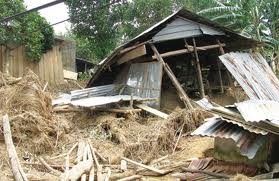 A house is destroyed (Photo:SGGP)
These storms were caused by a cold front, according to the center. A hailstorm accompanied by a tornado and thunderstorm caused massive damage in Cao Bang, Ha Giang, Lao Cai, Yen Bai, and Tuyen Quang.
Many rooftops are reported destroyed and blown off of houses.
Cao Bang experienced worst damages with over 6,000 house and 300 hectares of crops destroyed. Five people were injured and one person is reported to be dead.
Districts experiencing worst damage are Tra Linh, Ha Lang, Trung Khanh, Quang Uyen, Ha Quang, Thong Nong, Nguyen Binh, and Bao Lam.
Ha Giang experienced two hailstorms this week in Hoang Su Phi, Yen Minh, Dong Van, and Meo Vac districts. Hundreds of hectares of crops were destroyed by the 10-minute hailstorm and tornado. About 300 rooftops and two houses completely collapsed. Radio Television Station of Bat Xat District lost their 35-meter antenna during the storm.
Offices and houses in districts of Bao Thang, Muong Khuong and Bac Ha also were affected heavily.
It is estimated that Lao Cai Province experienced VND 5 billion in damages.
Local authorities of Ha Giang, Cao Bang and Lao Cai Province are helping residents rebuild houses and infrastructure.
The People's Committee of Cao Bang Province donated VND 5.5 million for victims.