According to the latest news from the National Hydrology Meteorology Forecast Center, typhoon Sarika will move northwest to west- northwestward and enter the mainland of Guangxi province of China after sweeping through the seashores of Quang Ninh and Hai Phong by this afternoon.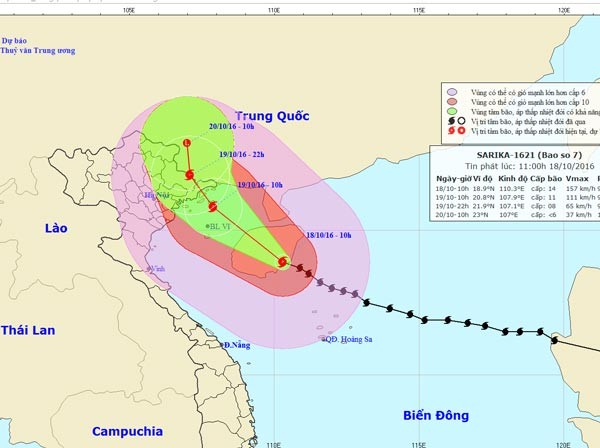 The seventh typhoon's direction
The powerful storm has caused medium- heavy rains on the large scale in the northeastern provinces with the highest rainfall of 200- 300 mm on October 18- 19.
However, the Asia Pacific Region International Hydrology Meteorology Forecast Centers yesterday warned that another super storm named Haima which is strongly operating offshore water and moving west- northwestward with its speed of 30 kilometers an hour. It is forecast to enter the East Sea after the seventh typhoon (Sarika) will be weakened.

Deputy Prime Minister Trinh Dinh Dung and Government's delegation yesterday evening presented in Hai Phong and Quang Ninh provinces to ask local authorities and functional forces to take measures to ensure safety for dyke systems; call for fishing vessels and tourist ships to safer places, and help local people deal with the typhoon impact.

The weather experts said that heavy rains and floods are expected to occur again in Quang Ninh being similar to the historical record flood in 2015.
Local authorities in Dam Ha, Tien Yen, Co To and Van Don districts called for 7, 663 vessels running out of the damaged zones to avoid the storm.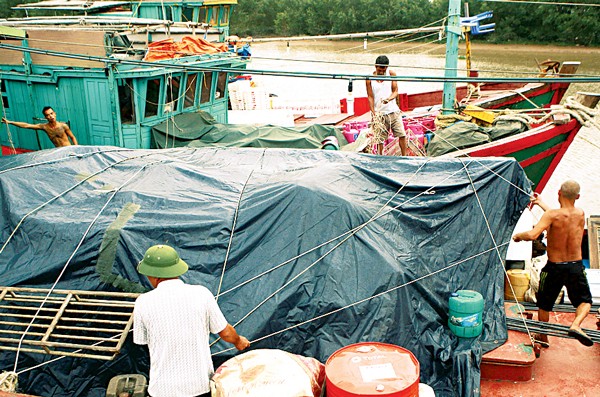 Local authorities help local people deal with the typhoon impact.