Rivers began to recede in the central region between Quang Tri and Quang Ngai yesterday but further north, between Quang Binh and Nghe An, they rose to danger levels 2 and 3 as heavy and incessant rains pounded the area, threatening lives and properties.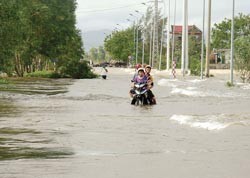 Flood waters submerge the road linking Le Thuy District to Dong Hoi City in Quang Binh Province
In Ha Tinh City, by 5 p.m. many streets were submerged under one to 1.5 meters of water. Two kilometers of the road between the city and Huong Khe District were cut off by flooding.

Heavy downpours threaten thousands of hectares of crops in Huong Khe, Huong Son, Nghi Xuan, Duc Tho, and Vu Quang Districts and have forced more than 200 families to take refuge in local schools.

Nguyen Khac Con, 48, a resident of Son Hoa Commune was swept away by the flood while Tran Dinh Son, 19, of Son Tinh Commune was reported missing.

In Le Thuy District of Quang Binh Province, many roads linking communes are completely submerged. Around 11,500 houses, 34 schools, 18 medical centers and nine markets are under a meter of water.

The collapse of three dikes in Hong Thy, Thanh Thuy, and Cam Thuy Communes made the inundation more widespread, leaving 83,500 people marooned without drinking water.

Two people, including Nguyen Viet Phong, 43, of Duy Ninh Commune, were found dead.
In Nghe An Province, a 70-meter section of the Ta Lam dike in Do Luong Commune burst, drowning some 400 houses.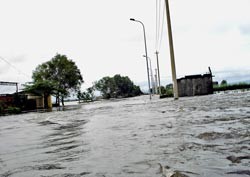 Flooding cuts off the road linking Highway 1A in Le Thuy District
Pham Van Thoa, resident of Son Hai Commune, a hand aboard a fishing vessel, was reported missing. Nguyen Thi Hong Anh, 12, of Tan Long Commune, was swept away while on her way home from school. A number of schools in Hung Nguyen and Nam Dan Communes are closed.

In Vinh, heavy downpours inundated many city streets, including Dinh Cong Trang, Nguyen Thi Minh Khai, Tran Phu, and Nguyen Van Cu. Electricity has been cut off.

Elsewhere, heavy rains in the last 10 days caused landslides in Son Tra Peninsula of Da Nang on October 30, threatening several resorts, including Eastern Sea and Son Tra.

Hundreds of cubic meters of rocks and soil fell from a mountainside on to Hoang Sa, the road leading to the peninsula, blocking it and holding up traffic for several hours.