The sudden downpour in Ho Chi Minh City and the neighborhood on March 13 and 14 has led some people to believe that this year's rainy season has come too soon. Ms. Le Thi Xuan Lan, head of the Southern Hydrometeorology Forecast Office will give a clear explanation about this matter.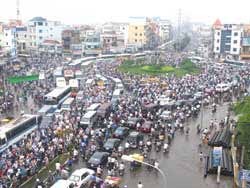 Out-of-season rain in Ho Chi Minh City
According to big weather forecast centers in the world, La Nina phenomenon will still remain until late 2006. Thus, rainy season in the south of Viet Nam might come neither too early nor too late; it is just seven to ten days sooner than in the past years.

It is predicted that in this year's dry season, the North and coastal provinces in Central part will see a more severe drought than in the previous year. In southern provinces, dry season might not last as long as in the years of 1998, 2003, 2004 and 2005.

The hottest period will last from now until the end of April with the highest temperature of 38ºC-39ºC in the north of the eastern south and Ho Chi Minh City, 36ºC-38ºC in other areas of the East and 35ºC-37ºC in the western south. Hot weather in Ho Chi Minh City is one of the abnormal signs caused by increasingly higher temperature in southern provinces. Drought also increases the risk of forest fires, especially in the provinces of Binh Phuoc, Dong Nai and Can Gio preventive forest areas of Ho Chi Minh City and the provinces of Kien Giang and Ca Mau.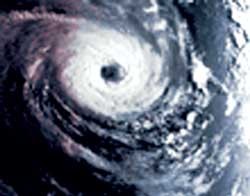 Storm accompanied with lightning often occurs in the season-change period
In late March and April, the rainy period between the two seasons, drastically hot and muggy weather might be really frustrating with storm at noon and in afternoon. Storm also causes dangerous whirlwinds and deadly lightning.

In late March 2006, there will be downfall in some coastal regions of the Mekong Delta and in HCMC. In mid-April, seasonal changes will increase rainfall, firstly in the provinces of Ca Mau, Kien Giang, Binh Phuoc and Xuan Loc District in northern Dong Nai Province, and later in other coastal areas from Vung Tau, Tien Giang to Ben Tre, Tra Vinh and Soc Trang. In mid-May, west-south monsoon will appear, followed by heavy rain in the south and central highlands, and the increased moisture will prevent hot and dry weather.

High tides will be strengthened during the period from March 29 to 31 which might cause flooding and landslides. Therefore, dykes should be reinforced right now.


In March 2006, salt will encroach on channels and canals in high tides. Salt infiltration will last until heavy rain appears in May. Strong northeast wind coupled with high tide increase salinity of rivers and canals in the Mekong Delta and Ho Chi Minh City. It is predicted that in late March, salt will infiltrate deeply into Sai Gon River system with the highest salinity level of 16% in Nha Be Station.