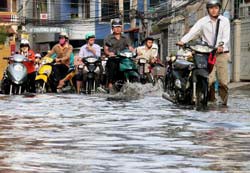 D2 street in HCM City's Binh Thanh district is submerged in floodwater.
The high tides that began in the Sai Gon River yesterday will last until the 31st of this month, with the peak levels forecast to be 1.42m at Phu An and 1.40m at Nha Be, the Central Hydro-Meteorological Forecast Center in the South announced yesterday.
The HCMC Steering Committee for Flood and Storm Control has sent an emergency dispatch to announce news of the flood tides.
The committee said further there would be seven high tides before Tet next January.
Riverside districts and low-lying areas should make preparations to cope with the flooding, it said.