The National Hydro Meteorological Forecasting Center on April 15 said that scorching heat has once again returned all across the country.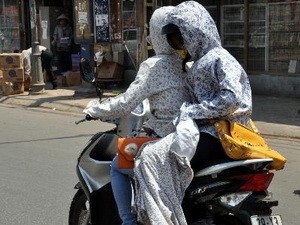 Scorching weather has returned across the country (Photo: VNA)
Average temperatures have rocketed up to 37 degrees celsius in some southeastern provinces as well as in Ho Chi Minh City. Mercury has also risen in the Mekong Delta.
Cold weather will ease in the northern region in the next two to three days when a hot low pressure zone is expected to slam  the area, bringing with it hot and muggy conditions.
Hanoi will then see temperatures soar to 32-35 degrees celsius.