The sweltering weather will continue in the central and northern regions in the next four to five days with temperatures forecast to top 40-Celsius degrees.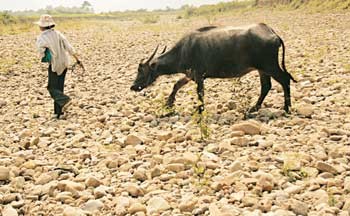 A woman takes her buffalo to search for water in the Cuoi Riverbed in the northern central province of Quang Tri (Photo: SGGP)
According to the National Hydro Meteorological Forecasting Center, the northern provinces continue to be affected by a westerly hot low-pressure system as arid winds move through the central region. Both areas will experience high temperatures hovering around 35-38 degrees.
The northern central region will suffer the worst heat with some places due to see the mercury level surpass 40 degrees.
Meanwhile, the Central Highlands and southern regions will be sunny in daytime. In late afternoon and nighttime, sparse showers will roll in with thunderstorms forecast to occur in some places.
The highest temperatures in the two regions will touch 33 degrees.
Sunday was the third day that central and northern regions suffered through the latest heat wave. Residents in provinces like Hoa Binh, Thanh Hoa and Nghe An reported they felt as if in a "fire pan" with temperatures touching 38-40 degrees.