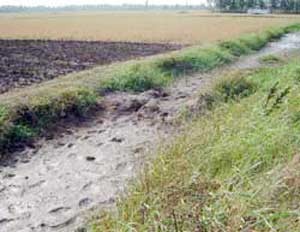 Large area of farm in the Mekong Delta's provinces will suffer drought during the dry season of 2006-2007.
The Southern Hydro-meteorological Forecast Center says that provinces in the Southern part of Viet Nam will experience its highest temperatures during the dry season of 2006- 2007.
The weather bureau said on March 28 that the weather will become hotter and muggier because of a scorching sun and higher humidity. The temperature in the southeastern area including Ho Chi Minh City is predicted to be between 36 degrees C and 37 degrees C, and 34 degrees C and 36 degrees C in the Mekong Delta. An Giang province may experience temperatures in excess of 37 degrees C.
So far this week, the temperature has gradually increased. The temperature in Ho Chi Minh on March 28 was 36 degrees C and 35 degrees C on March 27