According to the Southern region's Hydrology Meteorology Forecast Center, typhoon Aere was centered at 350 kilometers of the east southeastward of Hongkong (China) at 2pm yesterday with its strongest wind of 60- 90 kilometers per hour.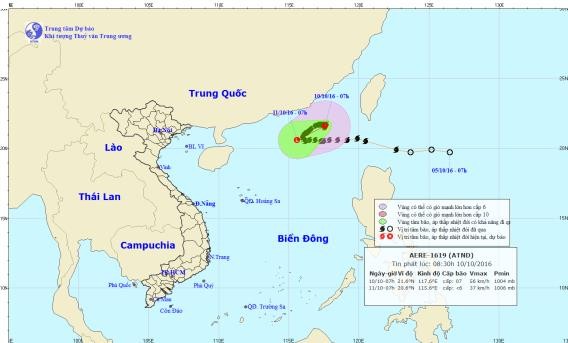 The typhoon position is located in the East Sea. (Source: The National Hydrology Meteorology Forecast Center)
By 1pm today, the storm will be at 640 kilometers of the Paracel Island. The maximum speed near the center will sustain at level 8- 10.
The damaged zone will parallel 20 degrees line of north latitude meridian and 115 degrees line of east longitude.
Because of the powerful operation of the typhoon, the northern territorial water of  the East Sea will see wind speed of level 6- 11 and sea rough.
Its position is forecast to move to mainland at 5- 15 kilometers per hour, and it will be weakened into tropical low depression in the next 24- 72 hours.
In addition, the southwest monsoon will bring medium- heavy rain, thunderstorm, big wave and powerful wind in the southern territorial waters from Binh Thuan to Ca Mau, from Ca Mau to Kien Giang and the Gulf of Thailand.
Lighting, thunderstorm and convection cloud are expected in Dong Nai, Ba Ria- Vung Tau, Tra Vinh and Dong Thap province via radar map.