Chanhom, the year's first storm, intensified May 4 and moved north-northwest in the East Sea to around 300km off the coast of Ninh Thuan Province, meanwhile another storm was formed in the region and the Government has banned boats from going out to sea.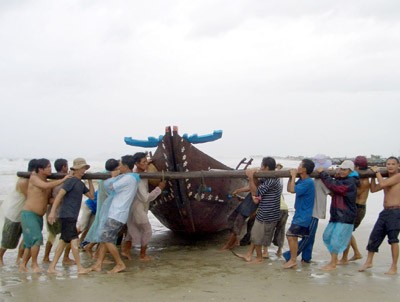 Fishermen in the central region move boats to safety as the year's first storm, Chanhom, lay centered off the Vietnamese coast on May 5 (Photo: Vietnamnet)
Deputy Prime Minister Hoang Trung Hai instructed local agencies to immediately guide fishing boats to safe places and stop vessels from putting out to sea.
At a meeting held by the Central Committee on Flood and Storm Control on May 4, Minster of the Agriculture and Rural Development Cao Duc Phat said Chanhom is moving in a similar manner to Typhoon Chanchu that wreaked havoc in 2006.

The Ministries of Agriculture and Rural Development and Industry and Trade should carefully monitor reservoirs to prevent flooding caused by possible heavy rains, he said.
At 10pm on May 4, the storm lay centered at 11.5 degrees north latitude and 112.2 degrees east longitude.
The strongest winds, near the eye, measure level 10, or 89 to 102 kilometers an hour.
In the next 24 hours the system is forecast to move north-northeast at five to 10km an hour.
At 10 pm on May 5, it is likely to lay centered at 13.5 degrees north and 113 degrees east, 240km from Song Tu Tay (Southwest Cay) Island in Khanh Hoa Province.
Near the eye, it will pack winds of 89 to 117 km and cause waves of five to seven meters height.
From its eye, a radius of 200 kilometers will have winds of up to level 6.
Winds in the central East Sea region, including Truong Sa (Spartly) Islands will measure levels eight to ten.
Medium to heavy rains will occur in some south and south-central coastal areas.
Elsewhere, on May 4, another storm was formed offshore Philippines, 300 km from Luzon Island. This storm is stronger, packing winds of up to level 13.
With several more forecast this year, the deputy PM ordered concerned agencies to initiate all flood and storm prevention measures.
Thousands of fishing boats still at sea

On May 4, 288 boats with 1,100 fishermen from Da Nang were still at sea. But 285 others with 1,071 men have returned to land.

In Quang Nam Province, 42 boats with 100 men are sheltering at Cu Lao Cham Island.

The Quang Ngai Province flood and storm control committee said at 7am on May 4, a boat was sunk by large waves while traveling to My A seaport. Two fishermen on board the boat were saved by other boats.

On May 4 the province had 903 boats with 7,000 fishermen in the waters near Hoang Sa (Paracel) Islands and Truong Sa Islands and further south.

Binh Dinh Province has 1,565 boats and 13,135 men at sea, while Phu Yen Province has 145 boats and over 1,000 people.

According to the National Committee for Search and Rescue, 5,624 boats with 40,427 fishermen have been informed about the storm.

It has instructed Khanh Hoa and Ba Ria – Vung Tau Provinces and Da Nang to have 20 rescue boats at hand.