According to the National Hydro Meteorological Forecasting Center, the latest tropical storm 'Nari' is likely to hit Da Nang City by Monday evening.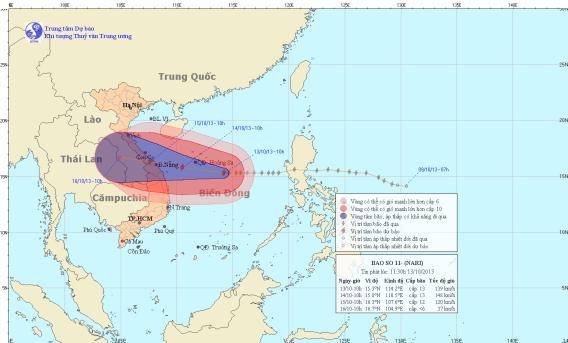 Location and direction of Storm Nari.(Photo: nchmf.gov.vn)
The Central Steering Committee for Flood and Storm Prevention and Control on Saturday held an emergency meeting to give instructions for storm prevention. Accordingly, preparation for storm prevention must be complete before 5-6pm on October 14.
Cao Duc Phat, Minister of Agriculture and Rural Development and Head of the Central Steering Committee for Flood and Storm Prevention and Control, has asked local authorities to pay attention to transport and communications in the storm areas. 
The National Committee for Search and Rescue said that more than 232,000 rescue workers along with 1,700 means of transport, which include more than 700 cars and six helicopters, will be on standby rescue work.
On Saturday, local troops called fishing boats still out at sea to return to shore or look for safe shelters. Until now, 36,097 boats with 150,305 fishermen have been notified about the location and direction of Storm Nari. However, 5,365 boats with 42,243 fishermen were reportedly still at sea.
The office of the Steering Committee for Flood and Storm Prevention and Control in Thua Thien-Hue Province said that more than 30 kilometers of coastline along the province continues to be eroded by the sea. The heaviest erosion is occurring in Phong Hai Commune in Phong Dien District, Hai Duong Commune in Huong Tra Town, and Phu Thuan and Phu Hai Communes in Phu Vang District, affecting 1,000 households living there. Local authorities have spent VND1.5 billion and mobilized residents to fortify the most vulnerable spots.
On October 12, the tropical storm was centered 15.3 degrees latitude north, 117.6 degrees longitude east, about 600 kilometers south-southeast of Hoang Sa Archipelago and packing maximum winds upto 133 kph.
During the next 24 hours, the storm will be mainly moving west at a speed of 20 kph and possibly become stronger. By 4pm on October 13, the storm will be at 15.6 degrees latitude north, 112.7 degrees longitude east, on the southeast of Hoang Sa.
Within the next 48 hours, the storm may change direction to move west and west northwestwards at 10-15 kph. By 4pm on October 14, the storm will be at 16.1 degrees latitude north, 109.5 degrees longitude east, and about 120 kilometers east of the coastal region from Quang Tri to Quang Ngai Provinces with strong winds with gusts upto level 12-13.