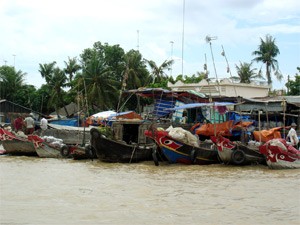 Fishermen have been  warned about the possible flooding in the Mekong Delta (Photo: VH)
The tropical depression developing into a storm called Prapiroon in the East Sea (South China Sea) is heading towards Viet Nam, the Central Hydrometeorology Center announced Wednesday.

The eye of the storm was located 470km east southern of the China's Hainan Island at 1:00pm Wednesday. Speed of wind is about 117km/h.

The Central Hydrometeorology Center alerted fishermen not to go to sea in the next several days as the upcoming torrential rain and thunderstorm will cause strong winds and dangerous seas.
National Steering Committee for Flood and Storm Prevention and Control has urged the Viet Nam oil and gas corporation to keep close tabs on oil refineries and offshore oil fields.
Heavy rains along the upper Dong Nai River in Viet Nam's Dong Nai and Binh Phuoc provinces are predicted to cause flooding. The situation that may be made worse by the storm Prapiroon.
The provinces' water levels rose to the emergency level of 112 meters August 1 and reached 112.5 meters the next day. This is the year's first flood in the area and landfall is predicted. Local authorities have warned villagers of flash floods in nearby mountainous regions.
Heavy rains often causes minor flooding in the Dong Nai River valley every year, though serious and alarming flooding is also no stranger to the region.
The weather station also forecast that flooding in the Mekong Delta will intensify until it reaches its peak in October. Viet Nam's rainfall has so far  increased year-on-year.