Le Thanh Hai, Deputy Director of the National Hydro Meteorological Forecasting Centre on Monday told Sai Gon Giai Phong Newspaper that storms and tropical depressions are now occurring more frequently in Vietnam and have become quite unpredictable.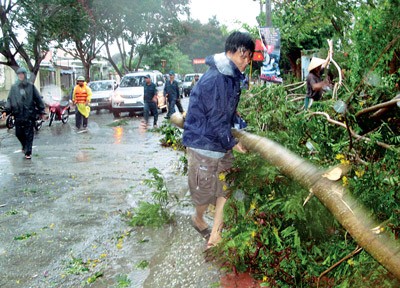 Residents remove fallen trees in aftermath of storm 'Phakhar', in Ho Chi Minh City (Photo: SGGP)
According to Mr. Hai, storms normally begin to occur on the East Sea around May each year, and usually head towards the northern region. From August to September, they head towards the southern region.
This year, storm 'Phakhar' came early at the end of March. It intensified from a tropical depression to become the first storm to occur in the East Sea.
This is the second time over the last 40 years, that the weather bureau has recorded a storm affecting Vietnam's coastline so early in the year, he said.
Earlier in mid February, a tropical depression had taken shape on the southern parts of the East Sea but was not directed towards Vietnam.
In recent years, storms are occurring earlier and end later than their annual seasonal time. However, their numbers have not increased considerably.
Last year, typhoon 'Washi' occurred in December and hit southern Philippines, reporting at least 400 dead and missing. It then entered the East Sea to become the seventh storm to operate on the East Sea in 2011, thought it by-passed Vietnam.
Two more tropical depressions also occurred in the southern East Sea in November and December of the same year.
Around six or seven storms and tropical depressions are expected to directly affect Vietnam this year, which are all forecast to occur earlier than their usual annual seasonal time.