The National Hydro Meteorological Forecasting Center has warned of continuous cold front conditions across the northern and central regions from now until Solar New Year, bringing temperatures down considerably.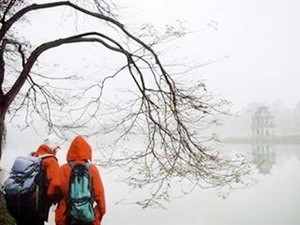 Solar New Year will be chilly in the northern region (Internet Photo)
One cold front will move across the northern region by December 27, followed by another one two days later. Northern and central provinces will have a very cold Solar New Year.
Ho Chi Minh City will remain sunny with temperatures swinging from 31-33 degrees celsius.
In related news, Storm Wukong entered the mid parts of the East Sea early morning of December 27.
At 7am, the storm was centered 10.2 degrees north latitude and 117.1 degrees east longitude, 340km east southeast of Song Tu Tay Island. Wind gales near the eye of the storm reached level 8 to move at 62-74 kilometers an hour.
Within the next 24 hours, the storm is expected to move westwards at 25km an hour towards Truong Sa (Spratly) Islands and might weaken into a tropical low pressure system.
The mid parts of the East Sea have become rough with strong winds owing to the storm. The Central Steering Center for Flood and Storm Prevention has sent a dispatch to provinces from Quang Binh to Kien Giang asking them to keep a close eye on the storm and guide fishing boats to shelter.