The Southern Hydro-Meteorology Station said that the Sai Gon River at the Phu An Station at 5am February 12 was lower at 1.4 meters but tides still caused some urban flooding.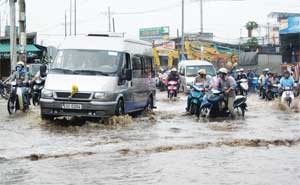 Many motorbikes stranded in deep water (Photo: SGGP)

Problems mostly occurred on the streets of: Quoc Huong and Luong Dinh Cua, district 2; Nguyen Van Luong and Hau Giang, district 6; Pham The Hien, Ben Phu Dinh and Me Coc, district 8; and Ho Hoc Lam, Kinh Duong Vuong and Highway 1A, Binh Tan district.
In some places roads were 20-30 centimeters underwater and brought traffic to a standstill. An Lac roundabout on Highway 1A suffered the worst traffic congestion.
At 8 am, several motorbikes became stuck in the flood water. This caused long queues to build up on the street.
Many alleys nearby also suffered from the same situation, with floods submerging lanes and causing problems for residents and businesses.
At 10am, high tide flowed into some streets at the wards of An Phu Dong, Thanh Xuan and Thanh Loc, district 12, causing many houses to be inundated. The most serious damage happened in quarters of 4 and 5 of wards Hiep Binh Chanh, Hiep Binh Phuoc and Tam Binh, Thu Duc district.
In other news, the HCMC Agricultural and Rural Development Bureau reported that unseasonal rains in the city did not seriously impact salt production in Can Gio district.
The farmers are currently collecting salt from their fields, with an expected production of 390 tons. The price is predicted to drop to VND1,600 per kg, about VND100 lower than the period before Tet.