According to the National Hydro Meteorological Forecasting Center, the low-pressure zone on the East Sea has strengthened into a tropical depression since yesterday afternoon.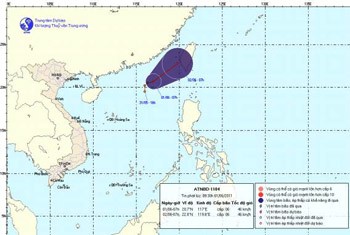 Chart showing direction of the tropical depression on the East Sea (Photo: National weather bureau)
By 7am this morning, the tropical depression centered at 20.2-21.2 degrees north latitude and 116.5-117.5 degrees east longitude off Guangdong Province in China.
The strongest winds in the eye of the storm reached level six, gushing at 39-49 kilometers an hour.
Within the next 24 hours, it will move northwest at 15 kilometers per hour to approach the coast of southwest Taiwan. The wind speed will remain static.
The northeast region of the East Sea has been very rough and choppy. The southern part of the East Sea including the coast along Binh Thuan to Ca Mau Province and Kien Giang Province continue to face thunderstorms and strong winds.