The tropical depression on the East Sea has weakened into a low pressure zone this morning, as per the National Hydro Meteorological Forecasting Center.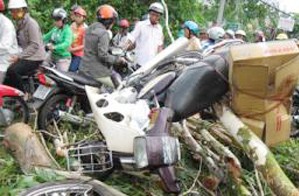 Tornado felled a giant tree on three motorcycles parked in the Mekong Delta town of Soc Trang (Photo: Tuoi Tre)
By 7 am this morning the low pressure zone was centered at 17.2-18.2 degrees north latitude and 113.3-114.3 degrees east longitude northeast of the Hoang Sa (Paracel) Islands.
Wind gales near the zone's center have downgraded to level 6, moving at less than 39 kilometers an hour.
Within the next 12 hours, the low pressure zone will move slowly northwestwards to gradually disperse.
The southern part of the East Sea including the waters off Binh Thuan to Ca Mau provinces will continue to suffer strong winds and thunderstorms, which might culminate into a tornado.
In related news, a tornado moving across the southern tip province of Ca Mau brought in torrential rains causing much damage for local fishermen yesterday morning.
According to Nguyen Long Hoai, chief officer of the flood prevention and rescue committee in the province said that the tornado had caused 11 fishing boats with 22 fishermen on board to sink in Tran Van Thoi District.
The tornado also overturned two boats in Phu Tan District. By noon of the same day, all 22 people were safely rescued and brought to shore.
Authorities have rushed to rescue another 11 missing boats.
Heavy thunderstorms destroyed five homes and left dozens of others roofless in Dam Doi and Tran Van Thoi District.