Two intense tropical storms are brewing east of the Philippines, in the Pacific Ocean, the National Hydro Meteorological Forecasting Center said Friday.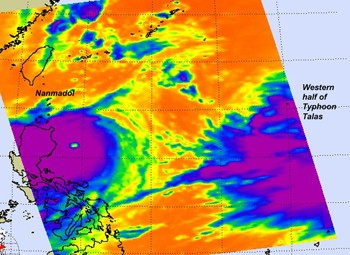 Left purple zone indicates typhoon Nanamadol, right purple zone the storm Talas (Source: Nasa.gov)
The first storm, Nanmadol, is approaching the Luzon Islands in the Philippines and slowly moving west-northwestwards. 
It is predicted as a super typhoon that will unleash its fury up to level 14-15, moving at 167-183 kilometers an hour. Presently the typhoon is centered at 17.4 degrees north latitude and 123.4 degrees east longitude.
The second storm, Talas, is presently located 21.9 degrees north latitude and 139.3 degrees east longitude with wind speeds of  level 10, moving westwards at 89-102 kilometers an hour.
According to the weather center, the northern region of Vietnam will see hot and dry weather in the first half of next week and then some showers, as a result of the Nanamadol typhoon.
The southern and Central Highland regions will be partially affected by the storm and will receive heavy rainfall.