The National Hydro Meteorological Forecasting Center has said that soon after entering the East Sea, Typhoon Bopha is likely to move northeastwards.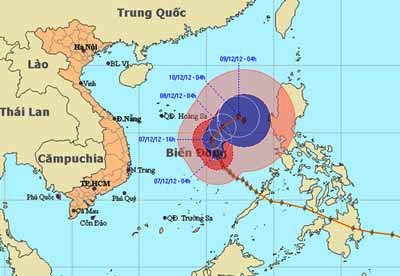 Typhoon Bopha is likely to change course after entering East Sea (Photo: nchmf)
At 10am on December 7, the storm was located 470km southeast of Hoang Sa (Paracel) Islands. Strongest winds near the eye of the storm were of level 11 and moving at 103-117 kilometers an hour.
 
Within the next 24 hours, the storm will move north and is expected to change course towards the northeast at speed of 10 kilometers an hour.
By 10am on December 8, the storm will be centered 550km east of the Hoang Sa Islands.
The Bureau of Consular Affairs under the Ministry of Foreign Affairs has sent requests to the Embassies of China, Indonesia, Malaysia, Brunei and the Philippines in Hanoi asking for safe passage for   Vietnamese fishing boats seeking shelter from the storm.
The border army in provinces from Da Nang City to Ca Mau has been asked to guide fishing boats to safety and issue storm warnings and also prepare adequate resources including manpower for rescue operations.
The Vietnam Maritime Search and Rescue Coordination Center has been asked to prepare five rescue vessels in Da Nang City, Nha Trang City, Con Dao Island and Vung Tau City.
In related news, the national weather bureau said that severe drought conditions will prevail in the central, central highland and southern regions during the coming dry season, which will extend until the beginning of next year.
Provinces from Ha Tinh to Binh Thuan will suffer the worst drought conditions due to acute water shortage.