Typhoon Bopha, that is threatening the south coast of the Philippines is expected to weaken soon after entering the East Sea by December 6, said Le Thanh Hai, director of the National Hydro Meteorological Forecasting Center on December 3.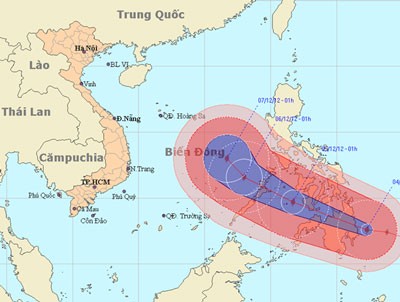 Typhoon Bopha will weaken as it enters the East Sea (Photo: nchmf)
Typhoon Bopha is a very powerful storm with wind gales of level 13-14 moving at 134-166 kilometers an hour.
The storm is forecast to abate somewhat upon entering the East Sea by December 6. Cold conditions on the East Sea will downgrade the storm into a tropical low pressure system.
The area northeast of Truong Sa (Spratly) Islands will face the full fury of the storm, though mainland Vietnam will not be affected much.
In related news, Le Thanh Hai said that the northern region is experiencing a severe cold front, which has caused temperatures to plummet and bringing in cold conditions and mild drizzle across wide areas.
Meantime, another cold front is preparing to slam the northern region by December 5--however this will not make the weather any colder but will only extend the cold wave.