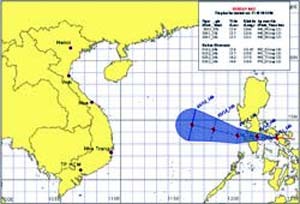 At midday the eye of typhoon Durian reaches the latitude of 13.7 degrees north and a longitude of 120.3 degrees east.
The National Centre for Hydro-Meteorological Forecasting said Typhoon Durian, which is traveling in a west to north-westerly direction at about 15 kph will cross the south side of Luzon Island at around noon today in the eastern Philippines and head into the Eastern Sea.
Named after a pungent and spiky Asian fruit, Durian is the fourth typhoon to hit the Philippines in three months. At midday the eye of the typhoon is expected to reach the latitude of 13.7 degrees north and a longitude of 120.3 degrees east. With winds of 150 kph and gusts of 185 kph, Durian left a trail of destruction across central and northern Philippines, affecting nearly 14,000 people as flooding and storm winds damaged homes, tripped power, and halted sea travel. There have already been 21 confirmed deaths, with more expected as search and rescue missions continue.
Despite being weakened after sweeping across the Philippines, Durian is on course to head through the Eastern Sea and set its sites on the central coat of Viet Nam next, the ninth storm to do so this season. According to the latest meteorological predictions, by 1 pm Saturday the storm will be about 690 km away from the Hoang Sa Islands off the central coast and generating category 12 to 13 winds (128 kph) around the center.
Deputy PM Nguyen Sinh Hung yesterday ordered a non-stop watch on Typhoon Durian and told local authorities to take the necessary steps to protect fishermen working in the Eastern Sea. The Deputy PM went on to say to officials in the coastal provinces that all fishing boats at sea, especially around the Paracel, Spratly, and nearby islands, must be warned of the coming typhoon and that they must take all relevant steps to be prepared.
Above all, regular announcements must be made to keep Viet Nam's fisherman informed, and provincial authorities must have storm shelters for fishing boats ready.
The Ministry of Foreign Affairs also sent a diplomatic note to countries and territories in the region requesting assistance to Vietnamese fisherman who need shelter.