The tropical depression on the East Sea has intensified into typhoon 'Haima' and is forecast to cause heavy rainfall in northern Vietnam.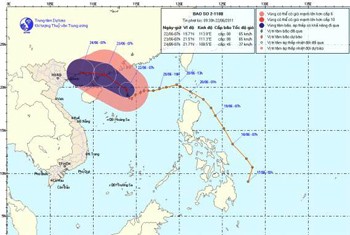 Direction of the 'Haima' Typhoon on June 22 (Photo: national weather bureau)
According to the National Hydro Meteorological Forecasting Center, by 7 am this morning the storm was 300 kilometers east of Hainan Island of China and the strongest winds at the eye of the storm topped level 8 to move at 62-74 kilometers an hour.
The typhoon will move westwards at 10-15 kilometers to cross north of Leizhou Peninsula in China and then gradually weaken into a low pressure zone by 7 am tomorrow morning. Wind gales will reduce to level 6 or below to move at 39 kilometers an hour.
The typhoon will affect the northern parts of the East Sea which will become very rough and choppy and might see tornadoes. The coastal area from Quang Ninh Province to Hai Phong City will see level 6 wind gales from tomorrow noon.
On the mainland, the northern and northern central regions will see heavy downpours and some thunderstorms beginning tomorrow afternoon.
Cao Duc Phat, Minister of Agriculture and Rural Development yesterday instructed local authorities to guide boats to safety and prepare to cope with flashfloods and landslides which may occur after the heavy rains.
In addition, the southwesterly winds operating on mid and southern parts of the East Sea will yield strong winds and thunderstorms in the coastal areas from Binh Thuan to Ca Mau provinces.