A super typhoon named Megi operating powerfully offshore northeastward of the Philippines is forecast to , cross into the East Sea, reported the National Hydrology Meteorology Forecast Center.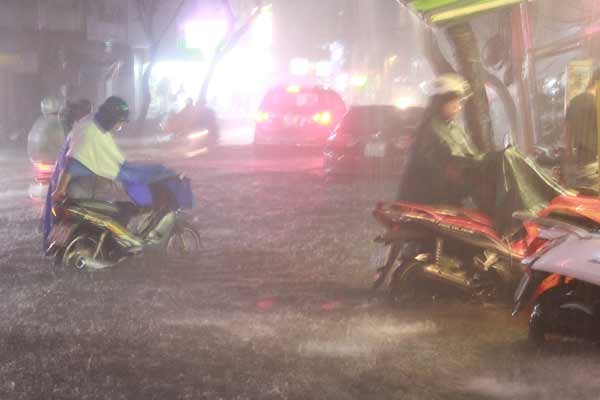 Long- lasting heavy rains experienced on the large scale in Ho Chi Minh City last night. (Photo: SGGP)
Although the typhoon did not enter the East Sea, it caused the southwest monsoon hitting the Gulf of Thailand, the southern and southwestern territorial waters.
The monsoon is predicted to bring heavy rains, deep cloud and thunderstorms to the southwest and southern territorial waters including Ho Chi Minh City.
From September 27 to October 5, rainfall in the southern region is going to increase sharply. The maximum wind in the western region will be at level 2- 3.

The phenomenon weathers of heavy rains and thunderstorms will continue hitting Ho Chi Minh City by next two or three days.
Yesterday, typhoon 'Megi' was centered  at 21, 4 degrees north latitude and 126, 2 degrees east longitude, at 580 kilometers of the southeastward of Taiwan Island (China) with the strongest wind of level 14- 17 near the center.
The super storm is forecast to land in Taiwan (China) before it enters Guangdong and Fujian province (China) in next days.
Because of its influence, the northeastern territorial water of the East Sea will see wind force level of 8- 10, even up to 11- 16 near the center with sea rough.
According to weather forecast, the southwest monsoon will operate lowly in the southern region as soon as the storm 'Megi' will be weakened in next days.