According to Director of the National Hydrology Meteorology Forecast Center Hoang Duc Cuong, typhoon Sarika is moving west- northwest to northward of Vietnam.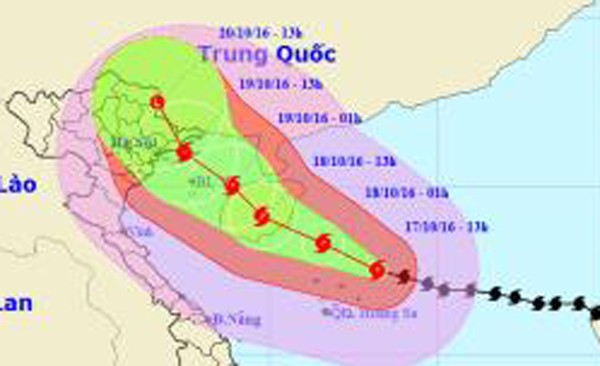 Typhoon Sarika is moving northward.
By evening yesterday, the seventh storm this year was positioned at 17. 8 degrees north latitude and 112. 8 degrees east longitude, at 110 kilometers of the northward of the Paracel Island with its peak speed up 135- 165 kilometers per hour.
In next 24 hours, the storm continues moving west northwestward at 15- 20 kilometers. By this afternoon, it will center in the mainland of the Hainan Island (China) with the strongest wind of level 12- 15.
From tonight, strong wind is forecast to sustain level 6- 7, even gust up to level 8- 12 and sea rough.
Within next 24- 48 hours, the storm will continue moving west northwestward with its maximum speed of 15 kilometers an hour. Typhoon Sarika is expected to keep moving northwestward at 10- 15 kilometers an hour.
Tomorrow, its position will be defined at 21. 0 degrees north latitude and 107. 5 degrees east longitude in the northeastern coastal provinces. The maximum wind near the center will blow level 10- 15.
And then, the storm can keep moving northwestward and sustaining winds of 10- 15 kilometers an hour.  The damaged time is defined from10am- 7pm as the storm will made landfall in the northern provinces from Thai Binh to Quang Ninh.
The Central Steering Committee on Natural Disaster Prevention, Search and Recue held an emergency meeting in Hanoi yesterday to discuss measures to cope with the ongoing seventh storm. At the working, the committee asked local authorities and relevant ministries, departments and agencies should quickly call for fishing vessels and tourist ships running out of damaged zones, and take residents living at aquaculture floats to safe places.
The local authorities from Nghe An to Quang Tri province reported that around 10 among 146 irrigation works get flood spillway. Currently, flood level in local rivers from Nghe An to Quang Binh province is slowly decreasing.