Typhoon Sinlaku, the fourth storm operates in the East Sea this year, is moving fast towards the south central region of Vietnam, said the Steering Committee for Flood and Storm Prevention and Control at a emergency meeting on Friday.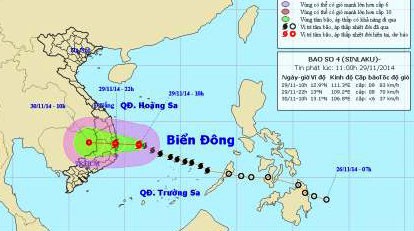 The image shows Typhoon Sinlaku's path on November 29 morning (Photo: National weather bureau)
According to the National Hydro Meteorological Forecasting Center and other forecasting stations in Asia-Pacific region, Sinlaku is expected to make landfall in provinces from Binh Dinh to Khanh Hoa at 3 a.m. Sunday.
Under the influence of the typhoon, south central provinces will see medium to heavy rain with the precipitation of 70-120mm and up to 200mm in places. Rainfalls will then roll across the Central Highlands.
As the storm is forecast to land at the same time of peak high tide, the south central will see 3-5 meter high sea waves. Areas in the eye of the typhoon will be inundated under floodwaters.
Meteorologists said that the storm came at the end of the stormy season, traditionally hitting the south.
Border military forces from Da Nang to Ca Mau Provinces have informed 45,000 boats with 237,000 fishermen on board of the storm path and guided them to shelter, said chief officer of the Central Steering Committee for Flood and Storm Prevention and Control Nguyen Van Tu.
A total of 55,000 military soldiers and officers have been mobilized to cope with the fourth storm.
Minister of Agriculture and Rural Development Cao Duc Phat said that Sinlaku was not a strong but dangerous storm.
Provinces under its influence including Phu Yen, Khanh Hoa and Binh Dinh must urgently call for all boats to shelters, evacuate fishermen from vulnerable areas and ban any boat from getting out to sea and preparation works must be done before 5 p.m. today, he said.
Coastal areas should watch out for heavy rain triggered flooding, he added.
Minister Phat will be present in Binh Dinh and Phu Yen today to directly instruct local people brace for the typhoon.
The national weather bureau forecast that an intensive cold front would slam in the northern region by Sunday afternoon, causing heavy rain and fierce winds.
Northeasterly winds will be fueled by the fourth storm to unleash torrential rains across central provinces from Ha Tinh to Binh Dinh within two to three days.