The whole country is predicted to bask in pleasant temperatures during the next two weeks. The south, however, will face unseasonal rains for two or three days.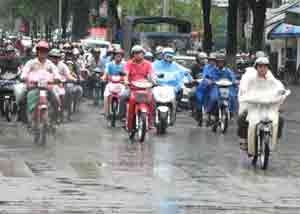 Unseasonal rain in HCM City late 2008 soaks riders who did not expect to need raincoats (Photo: Vietnamnet)

The National Meteorological Center forecasts that the country will enjoy sunshine during the next ten days with average temperatures ranging from 15 to 27 degrees Celsius. Temperatures will however rise a little between noon and early afternoon.

After two weeks of warm sunshine, from February 16 or 17 the north will face a very cold spell.

The south is predicted to have unseasonal rains in a few days, lasting two to three days. The average rainfall is expected to be between 20 – 50mm.

On Saturday, the Irrigation Department of the agriculture ministry announced that it would continue to pump water from the three reservoirs of Thac Ba, Hoa Binh, and Tuyen Quang hydroelectric plants to supply water to 270,000 dry hectares of paddy fields in the Red River Delta.

There are 640,000 hectares of land in the delta needing irrigating for winter – spring crops, but only 366,000 hectares, mainly in Phu Tho, Hai Phong, Ninh Binh and Nam Dinh provinces, have been watered.