Over the Valentine weekend, Vietnam will be sunny with temperatures in the morning reaching between 20 – 21 degrees Celsius.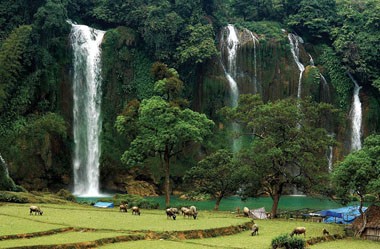 Ban Doc waterfalls on a sunny day, in the northeastern province of Cao Bang
Early mornings will be fairly cold with mist becoming sunnier and hotter in the afternoon, with top temperatures of 31 – 33 degrees Celsius, the Central Hydro-Meteorology Forecast Center said February 13.
The north of Vietnam will experience summer temperatures on February 16. The warm weather will be replaced by a cold front on February 21.
In the south, over the last few days there has been frost in the mornings and unseasonal rains, there will be temporary halt over the weekend.
The cool weather at night and early morning, and warm sunshine in the day will be advantageous to those organizing outside activities for Valentine's Day.