The national weather bureau has forecast that the present low pressure zone may intensify into a tropical depression in the northern parts of the East Sea by today and the country will continue to experience wet weather for the next two days.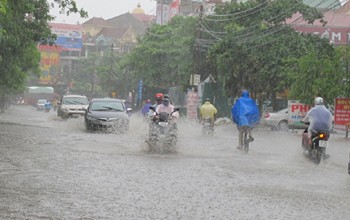 Rainy weather will prevail in the country for the next few days due to the low pressure zone (Photo: Dantri)
By 7am this morning, the low pressure zone was located at 16.5-17.5 degrees north latitude and 117-118 degrees east longitude. It was said to gather momentum while remaining virtually stationary.
Waters in the northern parts of the East Sea continued to remain rough and choppy and strong winds blew up to level 6 and about 39 kilometers an hour.
On the periphery of the East Sea the 'Muifia' storm is said to be brewing and may well affect the present direction of the zone.
Meanwhile, southwesterly winds continue to stir the middle and southern parts of the East Sea with strong winds and thunderstorms. Strong winds combined with the low pressure zone will prolong the rains in the southern and Central Highland regions in the next couple of days.
'Nock-Ten' typhoon continues to unleash its strength, rendering torrential rainfall in the southern Red River Delta, all of yesterday. The rainfall has reduced somewhat in the north central regions of Thanh Hoa, Nghe An and Ha Tinh Province.
So far the typhoon has claimed four lives; one man was struck by lightning in Son La Province, two drowned in Nghe An Province and one was electrocuted in the same province.
The typhoon left five homes and one school roofless and inundated about 3,500 hectares of rice and vegetables in Nghe An Province. Whilst Hai Phong City and Quang Binh Province reported damages to three fishing boats and in Son La Province sixty hectares of corn crops were completely destroyed.