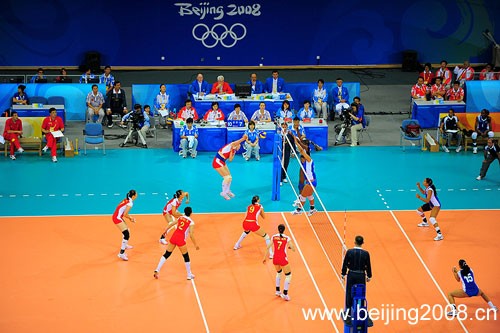 China beat Venezuela 3-0
Defending Olympic champion China will play Russia in the quarterfinals of the Women's Volleyball tournament, while the United States will face off against Italy. The matchups were determined by a drawing of lots, conducting by the International Volleyball Federation (FIVB) at the conclusion of the preliminary round.
The two other quarterfinal matches were determined by the pool standings. Pool B winner Brazil will play pool A fourth-place finisher Japan, and pool A winner Cuba will play pool B fourth-place finisher Serbia.
Women's Volleyball Quarterfinals:
Tuesday, August 19 (all times UTC/GMT +8)
10:00 a.m. Cuba (A1) - Serbia (B4)
12:00 p.m. Japan (A4) - Brazil (B1)
8:00 p.m. China (A3) - Russia (B3)
10:00 p.m. The United States (A2) - Italy (B2)
The winners of China vs Russia and Japan vs Brazil will meet in one semifinal; the winners of Cuba vs Serbia and the United States vs Italy will meet in the other semifinal.