Chinese gymnast Li Xiaopeng won his third career gold medal Tuesday in men's team competition, bringing himself even with the nation's "prince of gymnasts" Li Ning.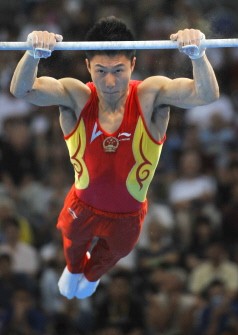 China's Xiaopeng Li competes on the horizontal bars during the men's team final of the artistic gymnastics event on August 12, 2008 Beijing on August 12, 2008. (AFP Photo)
Li's gold gave him 17 Olympic and world titles in his career making him the most decorated Chinese gymnast-ever and well ahead of Li Ning's 14 career championships.
Li Ning, who catapulted his Olympic success into a multi-million dollar sports apparel empire, won six medals at the 1984 Los Angeles Olympics including three gold, earning him the title the "prince of gymnasts."
At Friday's opening ceremony the 44-year-old Li lit the Beijing Olympic flame in a high-wire act that had him circling the Bird's Nest national stadium much to the delight of the audience.
Li Xiaopeng's vault performance Tuesday helped China win the team gold, giving him his first trip back to the top of the Olympic podium since the 2000 Sydney Games when he also won a team and an individual gold.
Since then the 27-year-old Li has been hampered by injury and bad luck especially during the 2004 Athens Games.
Only last year did the parallel bar specialist find world championship form taking top titles in elite competition and surpassing his idol Li Ning's all time career mark.
Li Xiaopeng will have another chance to surpass Li Ning in Olympic titles when he competes in the individual parallel bars in later competition during the Games.