Defending champion Buvaysa Saytiev of Russia will gun for his third Olympic freestyle wrestling gold medal in 12 years later Wednesday after reaching his his third 74kg final in spectacular fashion.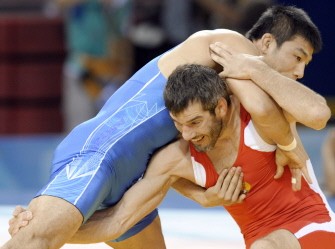 Russia's Buvaysa Saytiev (red) grapples with South Korea's Cho Byung-Kwan during their wrestling men's 74kg freestyle 1/8 wrestling final match at the 2008 Beijing Olympic Games on August 20, 2008. (AFP Photo)
The 33-year-old six-time world champion, now with greying hair, pinned his Bulgarian semi-final opponent Kiril Terziev on to the mat in the first period to win by a fall.
His opponent in the gold medal match will be unfancied Soslan Tigiev from Uzbekistan, who mowed down the other favourite, Murad Gaidarov of Belarus, in the second semi-final.
"This will be a very interesting match. The opponent is very young. Let's wait and see," said the Russian coach Dmitry Mindiashvili.
Saytiev, the winner for the event in the Atlanta Olympics in 1996 and as well as the 2004 Athens Games, had to defeat the current world champion, Mackhach Murtazaliev, to win a spot in the powerhouse Russian team here, who have so far won four gold medals -- three of them in the earlier Greco-Roman events.
Saytiev has been one of the most consistent Olympic wrestlers for Russia, stumbling only once when he finished in ninth place at the Sydney Olympics eight years ago.
If he wins later Wednesday he will become the first freestyle wrestler representing Russia to win three Olympic gold medals.
Only Alexander Medved, who wrestled for the former Soviet Union, had achieved that feat in the Tokyo, Mexico and Munich Olympics between 1964-1972.
"Saytiev fell ill in 2006, and he had a bad time. So he lost in the 2006 world championship in Guangzhou, China," Mindiashvili said.
"But now he has fully recovered from his illness and revealed his power."
The other favourites here were former world champion Ibragim Aldatov of Ukraine, who lost to Terziev in the round of 16, and Athens Olympics bronze medallist Ivan Fundora.
The Cuban lost by points to Saytiev in the quarter-finals.
"I think I got a point in the second period, but the referee didn't give it to me, so I lost a chance to go to the third period," said Fundora.
"If I have a chance to go to the repechage, I will fight hard to win the bronze."