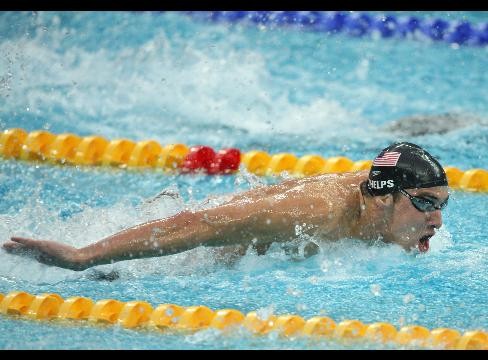 Michael Phelp, US takes a stroke in the men's 400m relay swimming event
On a day when Michael Phelps won his record eighth gold medal of the Beijing Olympics, China claimed another eight titles for a Games-leading total of 35, its best performance in history.
With one week left of competition, the host nation has already surpassed its haul of 32 gold medals in Athens in 2004. China's eight golds in 37 medal events yesterday was the best single-day showing of the Games.
``For China, teams are strong; whereas for the U.S.A., individuals are strong,'' Chinese table tennis coach Shi Zhihao said. The U.S. ``managed to have one athlete win eight, it took the entire Chinese team to win eight.''
Phelps eclipsed the single-Games record of seven gold medals he shared with fellow American swimmer Mark Spitz by helping the U.S. win the men's 400-meter medley relay in world record time. That victory capped nine days of swimming competition that produced 25 world records.
Phelps reached two gold medal pinnacles in Beijing, surpassing the previous career record of nine and the 1972 performance of Spitz, which many Olympic historians considered the ultimate individual Olympic achievement. Phelps now has 14 career gold medals.
``I literally wanted to do something that no one's ever done before in this sport,'' Phelps told reporters. ``Without the help of my teammates it wouldn't have been possible. We all came together as one unit.''
American swimmers won a meet-high total of 31 medals in Beijing, including 12 golds.
The U.S. team has 19 total golds and holds a 65-61 lead over China in total medals.
Qiu Jian claimed yesterday's first gold medal for the hosts by winning the men's 50-meter rifle three-position event after a final-shot mistake by U.S. shooter Matt Emmons. China won its first rowing gold in history in the women's quadruple sculls and added victories in men's gymnastics, women's wrestling, badminton, table tennis and diving.
Britain claimed two gold medals in sailing, one in rowing and one in cycling to boost its total to 11, two more than for the entire 2004 Games. The 2012 host is third in gold medals.
``This feeling is truly amazing, and it's a massive relief,'' British sailor Ben Ainslie said after winning the Finn class for his third gold medal in as many Games. ``I could open the champagne right now.''
Nadal's Gold
Rafael Nadal gave Spain its second gold by beating Fernando Gonzalez of Chile in the men's singles tennis final.
Venus and Serena Williams won the women's doubles title for the U.S. and Elena Dementieva took the gold as Russian women won all three singles medals.
A day after Jamaica's Usain Bolt won the men's 100 meters in a world record time of 9.69 seconds, Shelly-Ann Fraser led a Jamaican sweep in the women's 100. Sherone Simpson and Kerron Stewart shared the silver.
The International Association of Athletics Federations rejected a U.S. protest over the result after U.S. runner Torri Edwards said she false-started and expected to be called back.
Constantina Tomescu of Romania won the women's marathon to become the oldest Olympic champion of the event at 38.
Slovenia and Cameroon collected their first golds of the Games at the Bird's Nest stadium yesterday as Slovenia's Primoz Kozmus won the men's hammer throw and Cameroon's Francoise Mbango Etone successfully defended her women's triple jump title.
Gulnara Galkina-Samitova of Russia took more than three seconds off her own world record in winning the women's 3,000 steeplechase and Kenenisa Bekele led an Ethiopian 1-2 finish in the men's 10,000 meters.
At the Water Cube yesterday, Phelps earned his place in history after Dara Torres of the U.S. and Grant Hackett of Australia were denied spots in the Olympic record book.
Germany's Britta Steffen won the women's 50-meter freestyle, edging Torres by .01 second to prevent the 41-year- old American from becoming the oldest swimmer to win an Olympic gold medal.
``I gave it my best shot and I'm thinking maybe I shouldn't have filed my nails,'' said Torres, the oldest medalist in Olympic swimming history.
Steffen added to the gold she won in the 100 freestyle two days ago. Torres, the first swimmer to compete in five Olympics, later added a second silver medal in the women's 400 medley relay won by Australia. It was her third silver in Beijing and her 12th career medal.
Hackett came up short in his attempt to become the first man to win the same event in three straight Olympics, finishing second to Tunisia's Oussama Mellouli in the 1,500 freestyle.
In the final race of the swimming competition, Phelps took over the third butterfly leg with the U.S. in third place and put the team ahead before Jason Lezak secured the victory. The U.S. has won the race every time it's entered the event since 1960.