The Vietnamese Association of Cultural Heritage has lodged a complaint to the Ha Noi municipal government protesting a project to erect a building facing Hoan Kiem Lake [Sword Lake], a project they claim would ruin the city landmark.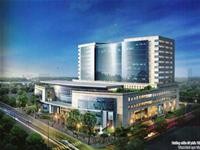 An artist's impression of the imposing building at 69 Dinh Tien Hoang Street
The association warns that, if the proposed financial and commercial center were built, it would violate urban planning regulations issued by the Ministry of Construction in 1996 limiting building beside the lake to under 16m [four stories].
The project in question was ironically approved by the same ministry, yet it is 21m high, five stories.
Backing the heritage association is the Viet Nam Architects' Association (VAA) whose chairman, Nguyen Tan Van, told Sai Gon Giai Phong his group strongly opposes the plan which they too claim would "undermine the heritage value of the lake".
State utility Electricity Viet Nam (EVN), Van said, had indeed invited the VAA to consult on the plan, but the VAA declined because it "considered the project infeasible and likely to damage to the lake's cultural value."
Adding to the VAA's fears is the fact EVN hired foreign experts to design the building, who, Van claimed, are "concerned mainly with profits and not the heritage aspects of the site, though they can design very eye-catching models."
Former VAA President Nguyen Truc Luyen added this opposition to the project, saying any new building in central Ha Noi, especially around the lake, should be carefully considered.
"We shouldn't load the city's center with such massive buildings because they could overload the general capacity of the center," Luyen said, adding that downtown Ha Noi is already burdened by traffic and population density.
Luyen admitted, however, that experts committed a very serious mistake in the 1970s when the Ha Noi Post Office was built facing the lake. The 5-storey concrete building with its lengthy, imposing front had already marred the lake and its surroundings.
Architect Doan Duc Thanh, a former member of VAA's Standing Committee, said it would be a shame to see the lake overrun by concrete.
"Some construction projects have already damaged the lake setting and we shouldn't allow further damage when we can still do something about it," he said.
Thanh also expressed worries that this construction project, if approved, could lead to a bad precedent for similar unsightly buildings.
Assistant Professor Doctor Ha Dinh Duc, who has been researching how to preserve the lake since 1991, recently implored Prime Minister Nguyen Tan Dung in writing to scrap the project.